BTG Biomass Technology Group has spent over 20 years perfecting the fast pyrolysis process, which transforms biomass into oil. And they've got pretty good at it. Since 2015, over 20 million litres of fast pyrolysis bio oil have been produced at the commercial Empyro plant in the Netherlands. Currently this liquid is used as a fuel, but a new process will enable further processing of the liquid to make more valuable bio-based products.
At the centre of this is the innovative fractionation process, a unique and flexible approach to effectively unlock lingo-cellulosic biomass, maximising its potential. The mineral free pyrolysis oil is separated into valuable fractions, all of which are subsequently used in further upstream applications. These fractions could be suitable for other applications as well.
Until now this technology has only been demonstrated at bench scale, but this is being upscaled within the Bio4Products project. BTG have designed a new demo-plant capable of processing 3 tons a day of pyrolysis oil. The plant we will be able to:
Remove extractives from the oil;
Separate the Pyrolysis liquid by extraction into pyrolytic lignin and pyrolytic sugars;
Concentrate the sugar stream and recycle the process water;
Further process the pyrolytic lignin stream to produce Biotumen.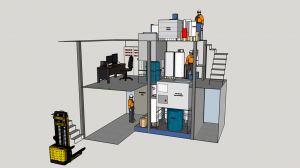 Taking into account the limited space available at BTG, designing the plant required some puzzling. The final design incorporates three levels, and is shown below. Construction of the plant is now underway, and it is expected to be operational in early 2018.
The pyrolytic lignin and sugar materials will be used as inputs by industrial companies Hexion, Derbigum and TransFurans Chemicals, to replace fossil based materials currently used in products such as various resins and roofing materials.