Bio4Products was presented at the 2017 EU Process Industry Conference in Brussels on 19 September, organised by the SPIRE contractual Public-Private Partnership.
Hans Heeres from BTG Biomass Technology Group explained the Bio4Products concept and main expected impacts and answered questions from the audience during the afternoon session on adaptable processes using alternative feedstock. Representatives from Greenovate! Europe were also present to discuss the project with participants during the networking sessions, where a Bio4Products poster was on display and project brochures were available.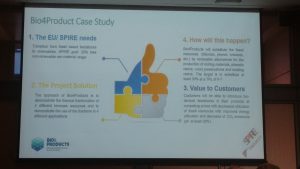 In total over 250 stakeholders gathered for the conference, from across the eight industrial sectors included in the SPIRE PPP. The overall conference focus was 'A look to the future', and aimed to conceptualise the future EU Process Industry and what can be implemented if appropriate investments are met.
Coming at the mid-point of the current programme, a short review of the ongoing SPIRE projects was also presented, showing that they are performing well against key performance indicators such as number of new job functions created, and leveraging of private finance.
The presentation made by BTG is available to download here.