BTG Biomass Technology Group BV (BTG) is an SME of engineers, researchers and consultants, which for the past 30 years has specialised in the process of converting biomass into useful fuels and energy. They are based in Enschede in the Netherlands.
Mission statement
BTG wants to contribute significantly, in an environmentally, socially and economically sustainable manner, to increase the share of bioenergy, biofuels and bio-based materials through facilitating, development and implementation of projects and programs all over the world.
Main activities
BTG has structured its know-how activities into two business units:
Research and Technology Development (RTD)
Consultancy & Project Development
Within the Research & Technology Development (RTD) group new processes and products are being developed, and contract research is carried out for third parties. The Consultancy Group provides services including due diligence, biomass resource assessments and technical advice to a range of private and public clients.
You may know them as…
The Fast Pyrolysis experts. The rotating cone pyrolysis process for converting biomass to oil was invented at the University of Twente and has been further developed in the past 25 years by BTG. In recent years the Empyro plant was implemented by sister company BTG Bioliquids BV to demonstrate the technology on a commercial scale. The plant, located in Hengelo, Netherlands, has produced more than 20 million litres of Fast Pyrolysis Bio Oil (FPBO) since its start-up in 2015.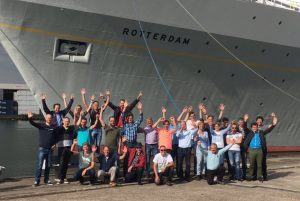 Role in Bio4Products
BTG's primary role is to convert the biomass streams into useful intermediate products which commercial partners can use in their production processes. They will do this by first pyrolysing the biomass and then separating it into different materials (lignin and sugar), using a new fractionation unit. Within the project they will optimise the fractionation process and build a larger demo unit to upscale activities from bench scale (12.5kg/h) to pilot scale (125kg/h).
In addition to this BTG Consultancy will perform biomass sustainability and life cycle assessments, and as project coordinator, BTG are responsible for overall project management and supervision.
Contact: Bert van de Beld ([email protected])