The transition towards a 'bioeconomy' is key to combating climate change. Making products and energy from renewable, natural (and local) resources will help reduce our dependency on imported, fossil raw materials. But biomass is not an endless resource. We need to find ways to make use of low value and residual feedstocks, which do not compete with food or feed. New processes also need to be developed to get maximum value from biomass: more intelligently using all parts of the biomass for high value applications.
Industry is working hard to overcome these challenges, and collaborations such as the Bio4Products project are contributing.
Sourcing sustainable biomass
Bio4Products will explore the potential of underutilised feedstocks, focusing on residues from agriculture, food/feed processing and forestry. In the first months of the project CAPAX has made a pre-selection of potential feedstocks based on factors such as sustainability, suitability and availability. In total, 10 different biomass feedstocks are being tested: hemp shives, flax shives, pellet shives, softwood sawdust, hardwood forestry chips, hardwood slabs, olive kernels, wheat straw, sunflower husks and phytoremediated poplar.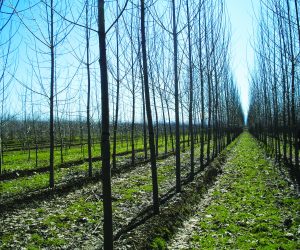 Innovative conversion method
Within Bio4Products BTG Biomass Technology Group will demonstrate a new two-step conversion method combining to transform biomass into useful, high-value materials that can be further processed into bio-based products.
The process combines fast pyrolysis – which converts solid biomass into a liquid bio-oil – and fractionation, which separates the oil into useful intermediate fractions: pyrolytic lignin and pyrolytic sugar.
Work has already begun, with batches of the new biomass streams being pyrolysed and fractionated. BTG have then analysed the quality and properties of the resulting pyrolysis liquid samples, to determine the amounts of lignin, cellulose and extractives present, and the overall suitability of each type of biomass.
BTG has also made progress with the design and construction of the fractionation demo-plant, which will significantly scale up the fractionation process.
Bio-based products
Industrial partners Derbigum, Hexion and TransFurans Chemicals (TFC), will incorporate the bio fractions into their current production processes. Already tens to hundreds of kilograms of the two intermediate materials have been provided to the industrial end-users for testing.
Derbigum has started with processing the pyrolytic lignin in formulations for producing waterproofing membranes. The maximum degree of fossil bitumen substitution by the pyrolytic lignin is currently being tested.
Hexion will also work with pyrolytic lignin, and aim to use it as a replacement for fossil phenol in their resin formulations. So far Hexion has started with the chemical characterisation of different pyrolytic lignin samples, and a lignin-based moulding compound was developed.
TFC aims to use the pyrolytic sugar in two end products; wood preservatives and sand moulding resins. At its base in Geel, Belgium, the company has already begun working with the pyrolytic sugar, producing a large number of samples for detailed analysis and started pilot testing.
Innovation consultants Van der Meer & van Tilburg will support these companies and have produced the first market exploitation plan for the project, which aims to help the partners to successfully commercialise the products under development, as well as to explore other possible applications. With considerable potential to include its sustainable resources in other product ranges, Bio4Products can help unlock the potential of the bioeconomy in Europe, and beyond.