The fast-growing biotechnology sector is playing a leading role in creating a sustainable bioeconomy in Europe.
Every year new conversion processes are being developed and new bio-based products are entering the market. According to estimates one million new jobs could be created in the bio-based industries by 2030.
But biomass supplies are limited, and competition for certain feedstocks is increasing.
Therefore, as well as having a marketable product, each bio-based business needs a solid feedstock strategy to ensure a reliable supply of their biomass raw material.
But what are the key aspects to take into account when designing a feedstock strategy?
We asked Bart Tambuyser, whose company Capax Biobased Development is managing feedstock within the Bio4Products project, which is testing the feasibility of a fast pyrolysis based biorefinery concept.
"Firstly, it is crucial to establish long term supply guarantees that last at least 10 to 15 years in duration. This ensures that the project has a continuous flow of biomass, because if there is no continuity in biomass, the plant will not run efficiently and may experience interruptions and therefore loss in output capacities.
"Moreover, assessing the availability locally to the plant, where considerations such as pre-treatment of biomass is looked into. Aspects such as low bulk density and avoiding high transport costs and considering greenhouse gas values must be considered.
"The feedstock must also be of sufficient quality to meet the technical requirements of the processing plant. Values such as moisture or ash content are considered as part of the quality assessment.
"Last but not least, pricing and sustainability of the chosen biomass are equally important."
Want to know more?
People looking to learn more about biomass feedstock strategies are invited to join the Bio4Products webinar 'Choosing the right feedstock strategy' on 26 September 2019 from 11:00 – 12:00 CEST. Interested participants can register for the webinar via this link.
The webinar is the first in a series called 'From biomass to bio-based products'. Subsequent webinars will focus on: Developing a pyrolysis-based biorefinery (November), Making products out of lignin and sugars (January), Ensuring sustainability (March).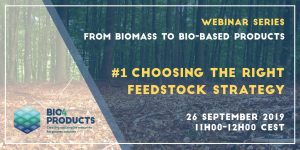 Photo source: Capax Biobased Development